Beer Flow Meters For Brewing and Wine
Flow Meter Solutions for Brewery, Winery, Distillery and Other Fermentation Processes
Batch processor's best value for quality beer and wine flow meters. Precision easy-to-use meters that maintain quality processing to achieve your perfect recipes batch after batch.
Meters for hot and cold side brewing processes
Tri-clamp connections, including 3A Sanitary rated meters
Digital Displays that provide easy toggling between your flow rate, batch, and cumulative totals
Accuracies ranging from 1% to 0.5%
Our G2S10TH9GMV meter is the small-batch brewers choice meter for affordability and dependability
Inexpensive High-Temperature Riser Kit boosts G2 meters ratings to 185°F (85°C)
Remote display options for higher temperatures up to 250°F (121°C)
Pulse Output options for PLC monitoring
4-20mA Output options
Replaceable rotor kits for turbine meters
Removable rotor assemblies for maintenance of 3A Sanitary meters
Electromagnetic (Mag Meters) with no moving parts and no flow obstructions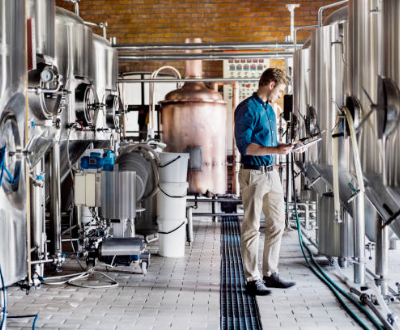 The beer brewing industry is booming. Homebrewing, small-scale producers, and large companies are experiencing a thriving global industry that continues to grow. With this much competition, you have to make the best brews to stay on top. Turbine meters are a more cost-effective means to improve accuracy in the beer and winemaking process. A brewery flow meter can also be advantageous for fermented beverages such as kombucha and other drinks including cold brew coffee, sodas, and seltzers.
Using a brewing flow meter makes each batch consistent and improves the quality of the product. Brewers and winemakers alike will benefit from the increased efficiency and enhanced bottom line that a beer flow meter provides.