Brewing Flow Meter Solutions for Breweries, Wineries & Distilleries
Achieve your perfect recipe batch after batch with best-in-class brewing flow meters from GPImeters. Our value-driven, impressively precise, and dependably durable brewing flow meter solutions are the perfect choice for flow measurement during different fermentation processes. So whether you're in the market for a brewery flow meter, a winery flow meter, or a flow meter for your distillery, trust the quality standard and price value provided by our popular options below. Find the best option for your specific application today, and explore our essential flow meter replacement parts.
Brewing Flow Meter Solutions
Meters for hot and cold side brewing processes
Tri-clamp connections, including 3A Sanitary rated meters
Digital Displays that provide easy toggling between your flow rate, batch, and cumulative totals
Accuracies ranging from 1% to 0.5%
Remote display options for higher temperatures up to 250°F (121°C)
Replaceable rotor kits for turbine meters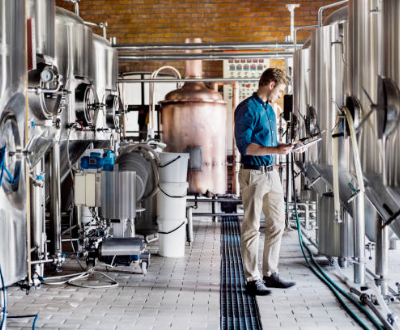 Flow Meter Brewing Guide
Making the right choice for brewing comes easy with FLOMEC® brewery flow meters. We offer all of our brewing flow meter options in 316SS with Tri-Clamp connections, various temperature configurations, with displays or output signals, and remote options.
Our Most Popular Brewery Flow Meters (5-50 GPM)
For Cold Side, up to 140°F, choose model G2S10TQ9GMV or G2S10TQ9GMA.
For Hot Side (185°F), choose model G2S10TH9GMX or add the Hi-Temp Riser to your existing G2S10TQ9GMV or G2S10TQ9GMA flow meter.
Smaller Capacity Brewery Flow Meters (2-20 GPM)
Choose model G2S07TQ9GMV, G2S07TQ9GMA, or G2S07TH9GMX.
Larger Capacity Brewery Flow Meters (10-100 GPM)
Choose model G2S15TQ9GMW, G2S15TQ9GMB, or G2S15TH9GMX.
Low Maintenance Flow Meters (1.33-80 GPM)
The series QSE Magmeters have no moving parts to maintain. They are designed for water applications up to 140°F with accuracies at 0.5% or reading.
Precision Sanitary Flow Meters (6.7-67 GPM)
Choose our premium GSCPS 3A Sanitary series flow meters to meet your highest standards. Their accuracies are ±0.5% of reading and are 3A rated for sanitary applications that require cleaning in place (CIP, SIP, COP).
Brewing Industry Partners & Memberships